At Glow Elixir, everyone should become their own skin specialist! And through the years of collaborating with various Beauty Salon Owners and Beauty Entrepreneurs, every single one of them has their own story of why Glow Elixir is special to them.
Today, we share about Becky Yong, Business Owner and Distributor, and her Shop is named Uyana, based in Sarawak, Sibu & Bintulu. She shares on how she has benefited from using Glow Elixir Products, and why she chose to do this business and since supported us over the years!
"I've always wanted to be a beautician since I was in my secondary school days, but I knew nothing about Beauty at that point in time. Eventually starting to learn a step at a time from the time attending the Beauty School.
And wish to beautify the once uneven skin, from someone who lacks the confidence to be a goddess. Have been using GE products for 6 years, from having oily skin in the early days and due to constantly having to put on makeup while learning the course, and having to put on makeup for at least 3 times a day, and removal of the makeup was yet another tedious process of using oil-based makeup remover, which resulted in skin sensitivities and congestion. Because of my skin condition, I was not confident and felt inferior and upset, thru affinity I had experienced the Glow Elixir's Signature Face Spa, and its result was smooth and unbelievably glowing skin, I was very satisfied with the result.

Upon that experience, I decided to use Glow Elixir's Home Care series, and first to improve the congestion & problems of having thinning skin, rejuvenation to good skin health, and to gradually improve the oil secretion problems. There were more and more people who praised that my skin was good. Even on the plane, passengers of the same flight would ask me what type of products I was using, and allowed me to share with them!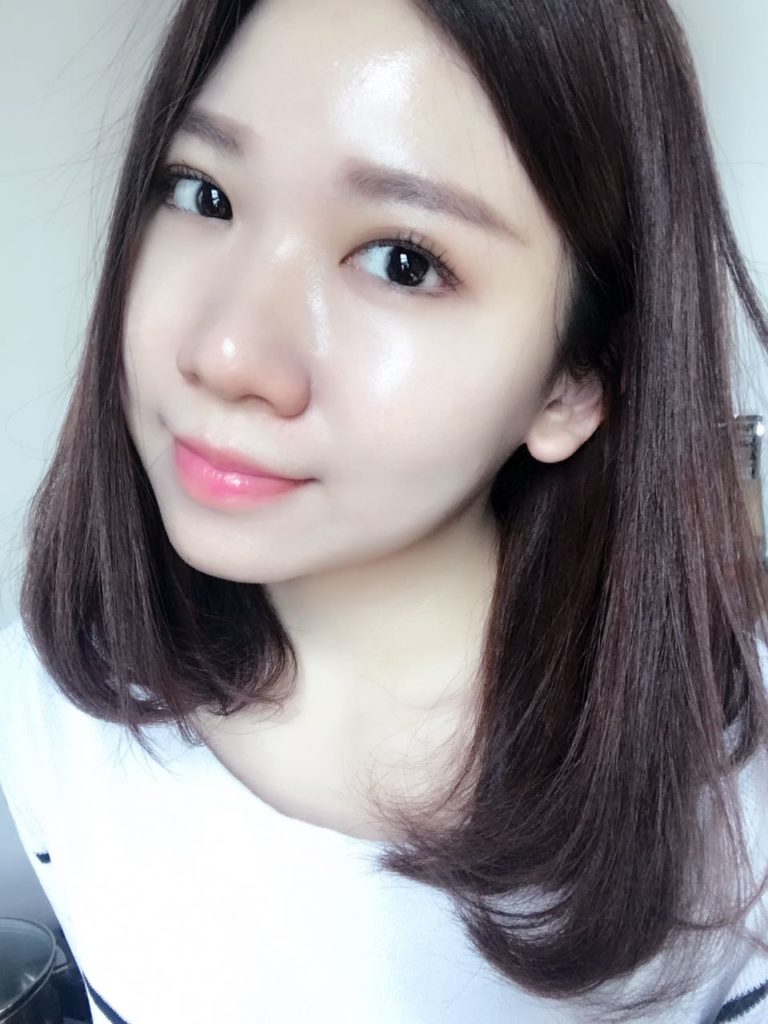 GE Products show results upon use and is very simple in the steps. For a person who is lazy to use products like me, GE can be considered good products for people who are too lazy to slab on so many products on their skin, in the mornings all I have to do is to apply two types of products to achieve tightening and healthy skin glow. Skin whitening and shine while being protected and does not feel oily is one of the reasons why this product saves time and enables you to show your beauty inside out.
When every customer improves their skin situation and restores to the beauty and optimal health of their skin, to uncover their self-confidence and happiness, it is at that time which I feel a sense of satisfaction time and time again.
I love all the products of GE and particularly the Lifting Essence, women are most worried about wrinkles and sagging skin. One bottle of Lifting Essence can eradicate challenges of having excess and overly thick dead skin cells (Keratin), acne and issues of saggy skin. To enable everyone to achieve the effects of Skin Tightening, Glow and Shine, and tightening of pores and its other benefits."
How would you recommend the use of Glow Elixir Products for the various types of Skin?
a. Acne skin (Morning):Cleansing Gel, Lifting Essence, UV Lotion
                       (Night):Cleansing Gel, Toner, Activator
b. Dry (ageing skin) (Morning):Cleansing Gel, Toner + SOD, Lifting Essence, UV Lotion
                               (Night):Cleansing Gel, Toner + SOD, Renewal Cream
c. Pigmentation (Morning):Cleansing Gel, Lifting Essence, UV Lotion,
                          (Night):Cleansing Gel, Toner, Activator
If you want to find her to know more about her business and how she made this business a success to what it is today, feel free to connect with her at her salons.
U.yana Beauty Esthetics – Sibu (Sarawak)

No. 22, 1st floor, Lorong Wong King Huo 3A, 96000 Sibu, Sarawak.
Tel : +60 14-393 7869 /  +608-431 8340
U.yana Beauty Esthetics – Bintulu (Sarawak)
Level 1, Unit 16, Lot 4118 (parent lot 3804) along Jalan Diwarta, 97008 Bintulu, Sarawak
Tel : +6011 5119 1234 /  +6013 3140 797